Aug 31, 2020 • 6M
Michael Perry's Voice Mail Episode 007 "Little Bird"
The audio version of Michael Perry's weekly "Roughneck Grace" newsletter. In addition to informal news and notes, Mike reaches into the SneezingCow.com archives and reads one of his "Roughneck Grace" columns aloud.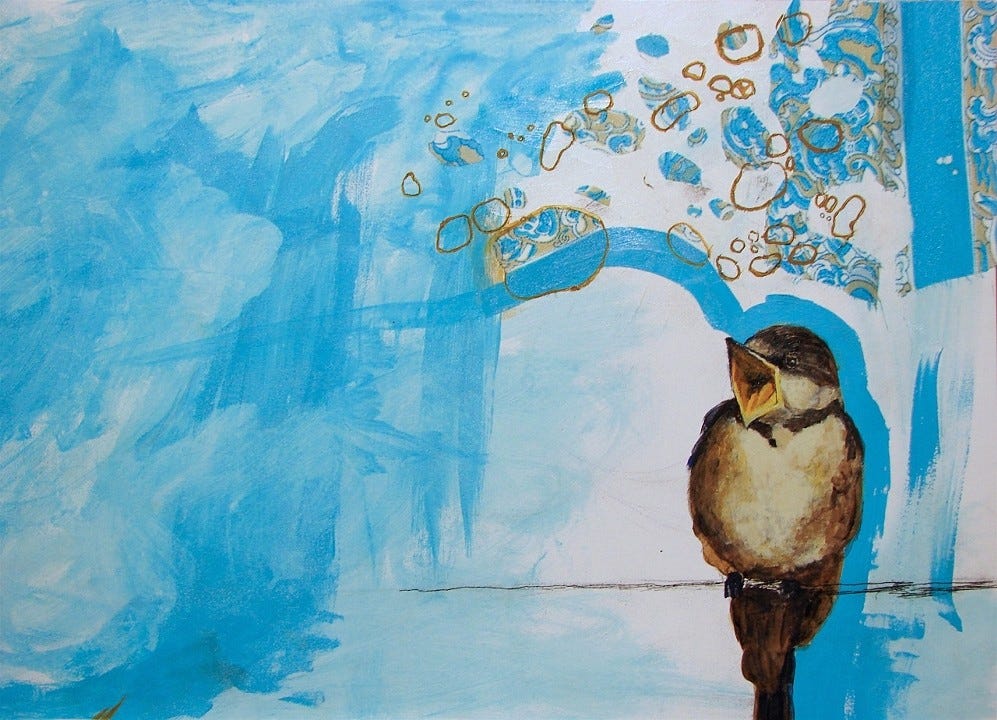 Art by Andrea Worthey
Back before the pandemic I was having a bad day. Felt I was failing as a husband. Had a daughter in distress far from home and calling for comfort. Another daughter on the edge of change. I needed sunlight. I stepped outside into a beautiful summer afternoon. First thing I saw was an indigo bunting, dead in the grass. So I headed back into my little room above the garage and wrote this song. It's about trying to do better. About how memories can sustain us. About letting daughters fly.
Someday if time and circumstance allow, we'll record this song properly. The version here is just me and my younger daughter—many of you know her as Jane—sitting down in front of a single mic, having a go at it to see if we can find some harmonies. A scratch vocal, they call it. Because you start from scratch. You do the polishing and perfecting later. I like these rough versions because no matter where you end up it's good to remember where you started.
Sometimes I wish I didn't feel things the way I do. Wish I was tougher. Thicker skinned. But I'm also grateful when a few chords and a handful of words can free me up, get me back on track. And that I have daughters to sing beside me.
LITTLE BIRD
Little bird
Dead in the grass
Flew too far
Flew too fast

Do you remember
Gave you my word
I used to call you
Little bird

You no longer sing
But I still hear your wings
Beating in the black
Beating in the blue
Beating back to me and you

Little bird
At the edge of the nest
Crazy little heart
Beating in your chest

Do you remember
Our bedtime prayer
Wherever you go
I'll meet you there
---
NOTE FROM MIKE: We release "Voice Mail" once per week to subscribers. We also release a few oddments like this free into the wild. For subscription options, click on the button below (it says "Subscribe Now" but you won't actually be subscribed until you confirm):
For all of Mike's books, audiobooks, music and recorded humor, plus Sneezing Cow t-shirts, stickers, can koozies and other merchandise designed to keep ink in the printer and gas in the van, please visit the SneezingCow webstore.
To let someone else know about Mike's Voice Mail, please hit the "share" button.